It's spring again and an opportunity to forage and make something wonderful from nature. While we may not like those pesky dandelions, they do make for a beautiful and light jelly. I came across this recipe from a book called Preserving Wild Foods by Matthew Weingarten and Raquel Pelzel. It's a great book with tons of fascinating ideas for preserving the bounty around us. I'll be trying more of the recipes soon. Since the dandelions are blooming I thought I'd give this one a try first.
You'll need to collect quite a few dandelion flowers for this one since you'll only use the yellow flower petals. The green stems are quite bitter so avoid those if possible. If you have some little hands available it'll be a fun adventure picking the blossoms. The trimming of the flower petals will require a bit more attention to detail so gather them around a table and make an afternoon of it. This is quite labor intensive with the collecting of the flowers, trimming the flower petals and then finally making the jelly. I did have to use nearly all of these that I had collected to get enough petals. Please only collect flowers from areas you know are not treated with herbicides, pesticides or chemical fertilizers.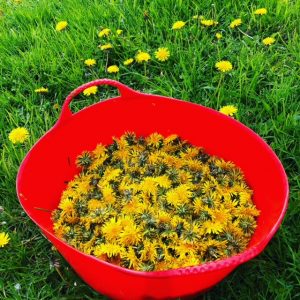 You'll need about 2 cups of flower petals. I used a nice pair of scissors to snip off the top petals that were most accessible. I didn't spend a whole lot of time trying to get every single one. You'll drive yourself mad trying to do so.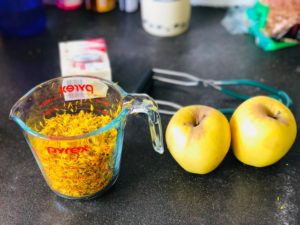 Ingredients needed:
2 cups dandelion flower petals
2 Golden Delicious apples
2 Tbps Pectin
1/4 cup lemon juice
2 1/4 cups of sugar
5 cups water
Directions:
First shred the apples, peel, core and flesh, you're using the apples for their pectin as well as a little flavor.
Combine in a medium pot the petals, apples and 5 cups of water. Bring to rolling boil and then turn off the heat and allow to steep and cool for 2 hours.
Once cooled, strain the mixture through cheese cloth or a very fine mesh strainer so you don't have any particles floating about. The liquid will be semi opaque so don't worry about trying to get it perfectly  clear or translucent.
In another pot (or clean out the previous pot) combine 3 cups of the extracted liquid, if it's less than 3 cups simply add some water to bring it up to a total of 3 cups. You can save any excess to make refreshing beverage from.*
Begin heating your liquid and slowly add the sugar, pectin and lemon juice. Bring to a rolling boil again, this will help activate the pectin. Boiling time can vary a bit depending on altitude, sugar content etc etc so aim for a 1-2 minutes at a rolling boil to ensure your jelly sets.
Pour into 4 or 8oz jars and seal. You may store in the refrigerator or you may follow standard canning techniques for water bath canning.
* Add sugar or honey to remaining liquid and enjoy over ice.